Nurse License application process
We start processing your application as soon as we get it. 
If your application is complete (with all documents and fees) it should take about 7 business days for us to process.
Some applications and situations will take longer:
Image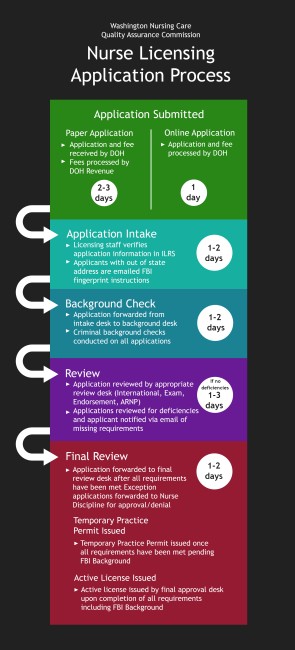 Applications missing information or supporting documents.
Applications with special circumstances.
Higher number of applications than usual.
Step 1: Application Submitted (1-3 days)
We receive the application and fee.
We input paper application information into our licensing system (online applications are processed faster!).
DOH processes the application fee.
Step 2: Application Intake (1-2 days)
We verify the application information in our licensing system (IRLS).
We email FBI fingerprint instructions to applicants with out-of-state addresses.
Step 3: Background Check (1-2 days)
We conduct a criminal background check on all applications.
Step 4: Review (1-3* days)
We review the application at the corresponding review desk (International, Exam, Endorsement, ARNP, etc.).
If we find the application is missing anything, or have questions, we send an email to the applicant. This delays the process time. 
*We will try several times to contact you by email. If we don't get a response, we will close your application and you must start over.  
Step 5: Final Review (1-2 days)
Once all requirements are met, we forward the application to the final review desk. 
We forward Exception applications to Nurse Discipline for approval or denial.
Step 6: Active License or Temporary Practice Permit Issued!
We may issue a Temporary Practice Permit while the FBI Background is pending.
Once the FBI Background is cleared, we issue your license. You are now licensed in Washington!
More Information