Washington State NLC Implementation Plan 
On April 21, 2023, Gov. Jay Inslee signed the Substitute Senate Bill (SSB) 5499 Multistate Nurse Licensure Compact (PDF), the legislation that enacted the Nurse Licensure Compact (NLC), into law. Washington is the 40th jurisdiction to enact the NLC. 
The NLC increases access to nursing care while maintaining public protection at the state level. Under the NLC, nurses can practice in Washington state and other NLC states and territories, without obtaining additional licenses.
In addition to implementing the NLC, we've changed our name to Washington State Board of Nursing (WABON or board). 
We are implementing the NLC in Washington state in two phases. 
Phase 1, beginning July 24, was successfully completed allowing nurses with an active RN or LPN multistate license (MSL) from another state to practice in Washington state.
We are currently in Phase 2 which will allow the board to offer and issue Washington multistate licenses to nurses. 
We appreciate your patience as we work to complete Phase 2. This phase requires the board to establish the Washington state RN and LPN multistate license in rule including the associated fees, develop the application process, and build the new credential in our licensing system. 
Image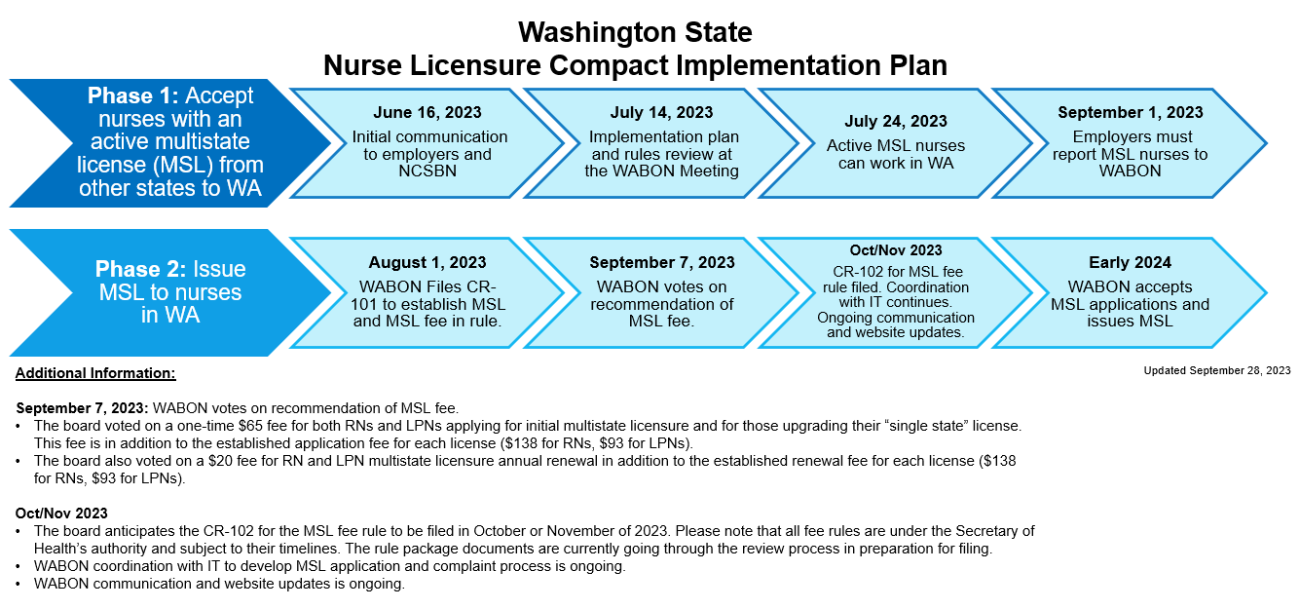 Phase 1: Accept nurses with an active multistate license (MSL) from other states
Beginning July 24, 2023, nurses with an active MSL issued from another state will be able to practice in Washington state. In accordance with the Interstate Commission of Nurse Licensure Compact Administrators (ICNLCA) rules:
A remote party state shall not issue a single state license to a nurse who holds a multistate license, Section 401(3).
A nurse who changes his or her primary state of residence from one party state to another party state may continue to practice under the existing multistate license while the nurse's application is processed and a multistate license is issued in the new primary state of residence, Section 403(1). 
What Nurses Need to Know
Nurses with an active MSL from another state may begin working in Washington state as of July 24, 2023. 
All nurses working in Washington state must follow the Washington Nurse Practice Act when providing care to patients in Washington.
To work with an out-of-state MSL for a mandatory employer in Washington state, you must:
Let your employer know you have an active MSL.
Work with your employer to meet employment requirements such as:
What Nursing Employers Need to Know
Employers may begin reporting MSL nurses to the board beginning July 24, 2023, and are required by law to report no later than September 1, 2023. Nurses may begin to work as of July 24, 2023, in advance of employers submitting this information. Beginning September 1, 2023, and thereafter, employers must report MSL nurses to the board within 30 days of hire.
Before hiring MSL nurses:
We encourage all employers hiring nurses with a multistate license (MSL) to carefully review the nurses' education.
Multiple Florida-based nursing schools have been identified as participants in schemes to issue fraudulent nursing transcripts and diplomas. See list of identified schools:
Employer Compliance Form
SSB 5499 requires mandatory employers who hire nurses with an active multistate license (MSL) to:
All employers are encouraged to complete these requirements but are not required to. 
How do I report this information to the Washington State Board of Nursing?
Employers are able to attest to these requirements via the board's Employer Compliance Form.
Reporting is a legal requirement after September 1, 2023, and will be enforced for those facilities by DSHS and DOH according to mandatory reporting requirements under SSB 5499.
Phase 2: Issue Washington state multistate licenses (MSL)
At the July 14, 2023, business meeting the board approved the NLC implementation plan and determined next steps for relevant rulemaking. The board is completing ongoing work on the following prior to determining the future effective date for issuing multistate licenses to nurses in Washington state:
Rulemaking to Implement the NLC
The board is in the process of establishing the Washington state multistate nursing license for RNs and LPNs in rule. This includes establishing the fees associated with the new license type. 
At the September 7, 2023, business meeting, the board was presented several different fee scenarios for the multistate license.
The board voted on an initial, one-time $65 fee for both RNs and LPNs applying for initial multistate licensure and for those upgrading their "single state" license. This fee is in addition to the established application fee for each license($138 for RNs, $93 for LPNs). If approved through the rule process, total fees for the initial multistate license would be $203 for RN and $158 for LPN.
The board also voted on a $20 fee for RN and LPN multistate licensure annual renewal in addition to the established renewal fee for each license ($138 for RNs, $93 for LPNs). Renewals of the multistate license would be $158 for RN and $113 for LPN.
We are currently in the middle of the rulemaking process. Our standard rulemaking process takes 12-18 months.
We anticipate being able to offer and issue multistate licenses in early 2024.
For more information about rules, please visit our Rules in Progress page on our website or email WABONRules@doh.wa.gov.
WABON Coordination with Department of Health IT Services
Develop MSL applications and related internal processes.
Coordinate efforts and implementation timing with the Healthcare Enforcement and Licensing Modernization Solution (HELMS).
More Information
Questions?
For questions relating to Washington state's implementation of the NLC, please email nursingcompact@doh.wa.gov.