Image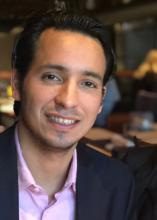 I'm Jonathan E. Alvarado, ARNP, CRNA, from Seattle, WA. I have been a member of the Nursing Commission since 2021 and am currently the chair of the Advanced Practice Subcommittee. 
I obtained my undergraduate nursing degree at Jackson Memorial/Miami Dade Scholar Program and Florida International University over a decade ago. I practiced nursing as a cardiothoracic intensive care nurse before obtaining a degree in Nursing Anesthesiology at Barry University in Miami. Later, I provided anesthesiology services to various hospitals in Florida and, since 2018, at Providence Regional Medical Center in Everett, WA, while pursuing a Doctorate of Nursing Practice and a Master of Business Administration.   
In the last decade, I have been part of many leadership roles at the state and national levels that have shaped my understanding of collaboration and the importance of kind, empathetic, open-minded, and engaged leadership that is not afraid of getting in the weeds to find solutions. 
I have four kids, love soccer, capoeira, and interacting with people from different and exciting backgrounds.
Contact Information