Image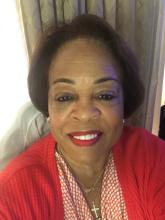 Ella Bernita Guilford is the commissioner for Community and Technical Colleges for the Nursing Care Quality Assurance Commission (NCQAC).
Ella is a master's prepared Nursing Professor at Tacoma Community College in Tacoma, WA. Where she proudly engages and embraces diversity and demonstrates respectful and professional collaboration with others.
Ella states the most rewarding part of her job is working directly with students in didactics, simulation, and clinical as a teacher, coach, mentor, and advocate for students. Witnessing their growth and development is very rewarding. Also, it is invigorating to see the manifestation of their growth and abilities to connect theory, skills, and the reality of nursing while engaging clients professionally.
Ella graduated from Randolph County Comprehensive High School, Cuthbert, Georgia as a Certified Nurse Assistant (CNA) in (1975). Over 47 years in the industry, she started her first job as a CNA at JoAnn Burger Nursing Home, Cuthbert, GA. (1975-1977). After graduating from Chauncey Spark Technical College, she worked as a staff/charge nurse (Licensed Practical Nurse) Medical Surgical Unit at Barbour County Hospital, Eufaula, Ala. (1977-1980). She worked as a staff nurse (LPN) Medical Surgical Unit at Southwest General Hospital, San Antonia, Texas, (1980-1986). Ella has served in the US Army as a Noncommissioned Officer 91C /Licensed Practical Nurse (LPN) Staff Sergeant/E6 (1986-1995). She worked at William Beaumont Army Medical Center (Active Duty Army) Surgical Intensive Care Unit (1986-1989). Ella PCS to Triple Army Medical Center, where she worked in Cardiac Intensive Care Unit as the units Ward Master (1989-1995), (Active-duty Army) Honolulu, Hawaii. She also worked part-time as a staff registered nurse (RN) in the Cardiac Intensive Care Unit and Telemetry Unit for Kaiser Permanente Medical, Honolulu, Hawaii (1990-1993). Ella Permanent Change of Service (PCS) to the 18th MASH, Ft. Lewis, WA, where she ended the tour of service (ETS) in the US Army (1993-1995). Ella worked as a Critical Care Nurse at Tacoma General Hospital (MultiCare Health Systems) for 25 years (1995-2019) In the Pulse Heart Institute of Tacoma General Hospital.
Contact Information