Image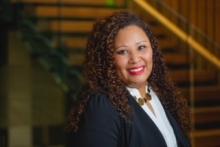 Dr. Judy Loveless-Morris is a Sr. Vice President and Chief Diversity and People Officer at Salal Credit Union. She is responsible for ensuring the integration and impact of equity, diversity, and inclusion across all areas of the credit Union including talent, culture, and community.
Prior to working at Salal, Judy was the Vice President for Equity, Diversity, and Inclusion (EDI) at Tacoma Community College, where her work was honored with the Regional, Charles Kennedy Award for Equity for her and her campus' work on maximizing the impact of the EDI council, implementing Employee Resource Groups, developing a tool to review and revise policies, working to de-bias HR and talent processes, creating an EDI fellowship program, and co-developing (along with Professors Reid and Bell) a multi-quarter learning pathway that advanced completion and success for students of color, first generational students, and students from low income households.
Judy has been a pioneer in the practical application of research and design to effectively build EDI strategies that deliver measurable results. She does so as the daughter Yi Il Pun, Lee E. Loveless, and Willie C. Bryant, Sr. She is also a benefactor of those that have done this work before her and as a partner and advocate to those that also deserve a voice and a seat at the table. She is regarded as a trusted advisor for community members, national organizations, Executive Leadership Teams, Corporate and Non-Profit Boards, and Community Based Organizations. As such, she works as a consultant and speaker for organizations across multiple industries. 
Judy is certified as a Senior Professional in Human Resources. She also holds a Doctorate and Master's in Sociology from the University of Washington. She completed her Bachelor's Degree in both Sociology and Psychology at Pacific Lutheran University and is a proud graduate of Pierce College.
Her husband, Bryan Morris and three sons champion her, shape her as a life long learner, and keep her humble!
Contact Information