Image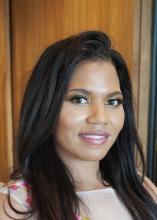 Quiana Daniels is the Founder at Childress Nursing Services, where she proudly serves as the Administrator overseeing the daily operations of the licensed home health fertility and maternity care agency and mobile medical laboratory.
For Quiana, the most rewarding part of her role is helping people achieve their dreams of getting pregnant and supporting them through their parenthood journey.
Over her 21 years in the healthcare industry, Quiana has been named ABC World News Tonight's Person of the Week, appeared on national news channels, newspapers, and magazines for her ability to overcome adversity, and has received numerous academic achievement awards. Her extensive biomedical research background involves research for institutions such as Yale School of Medicine, NIEHS/NIH, and NASA. She is also the author of 3 self-help books and a published scientific author in the American Journal of Physiology for research involving lung transplant rejection.
Quiana is a Registered Nurse (RN) and a Licensed Practical Nurse (LPN). She holds a Bachelor of Science degree in Biology from the University of Arkansas at Pine Bluff and Graduate Certificate in Health Sciences from Meharry Medical College.
Contact Information