Image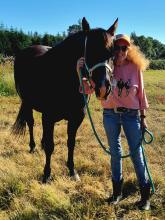 Helen E. Myrick retired as Senior Vice President of United Way of Pierce County in 2014, capping off a 45-year career in health and human services in the State of Washington.
During her career she founded many private non-profit human service agencies and won many awards including the Woman of Influence of South Puget Sound and the Washington Advocate of the Year Against Child Abuse and Neglect.
Helen lives on her horse ranch in Elma, Washington. She was appointed to the Public Member position of the Nursing Care Quality Assurance Commission (NCQAC) by Governor Inslee in 2015.
While serving on the Commission she Chairs the Nursing Assistant Program Approval Panel and serves on the Consistent Standards of Practice Committee, the Case Management Team, the Legislative Panel, and the Licensing Committee.  She was recently elected to be Vice Chair of the Commission beginning July 1, 2022. 
Helen received her Bachelor of Arts from Seattle University and her Master of Public Administration from Pacific Lutheran University. 
Other than serving on NCQAC during her retirement, she became an owner of several racehorses who compete nationally and, most of all, spends her time with her own Quarter Horse, Cricket, on her ranch.
Contact Information